Game Day Firebomb Nachos Recipe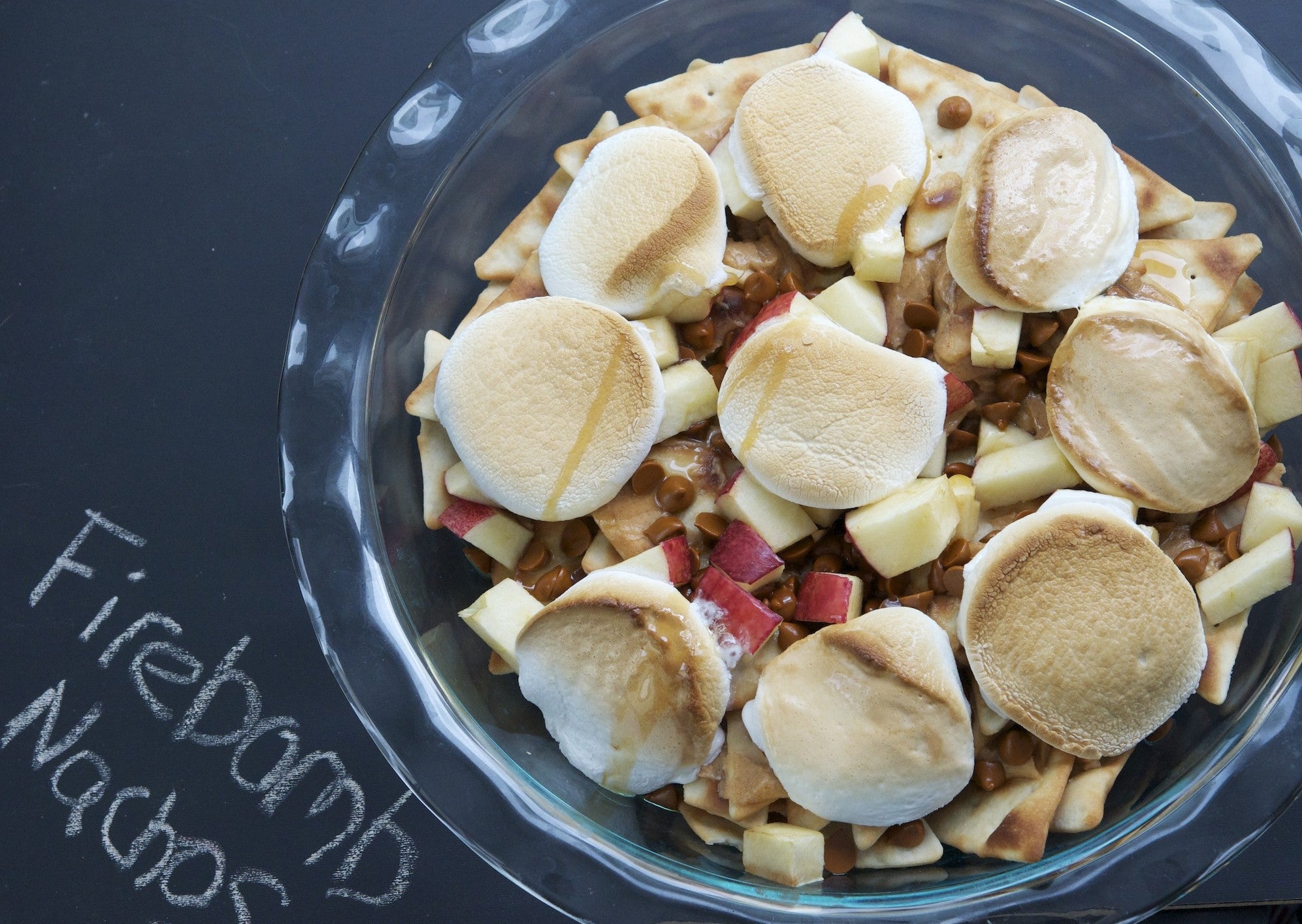 Wahoo! Superbowl Sunday is here at last! I've been counting down the days till my favorite holiday of all holidays. 5… 4… 3… 2… Not really. Is Superbowl Sunday even a holiday? I mean it's kind of a holiday, right? People get together, eat a ton of deliciously bad-for-you food, and drink buckets of beer. I think that's really all that's required to qualify a day as a holiday. But this holiday calls for a special dessert. A dessert that'll set your night on fire! A dessert like these holy grail Firebomb Nachos.
They're crunchy, creamy, drippy, and ooey gooey, but best yet, they're the perfect culmination of that glorious sweet/salty/spicy trifecta that you've been dreaming of since January's whole 30/paleo/juice cleanse began. The crunchiness and saltiness of the pita chips pair perfectly with the cinnamon and spice of the gourmet Firebomb frosting. Add cinnamon chips, diced apples, and marshmallows, toast it all up, and you'll have a sweet & spicy touchdown your friends will never forget! Firebomb Nachos are here, people. And I'm about to tell you exactly how to make them. 
Firebomb Dessert Nachos
Ingredients
1 box Townhouse Sea Salt Pita Chips ½ jar
Dollop Gourmet Firebomb Frosting
½ cup Hershey's Cinnamon Chips 1 diced red apple 3 jumbo marshmallows, sliced Caramel sauce for garnish Whipped cream for garnish  
Directions
Preheat broiler on high. Arrange half the box of pita chips in the bottom of a large glass pie plate. Place Dollop Gourmet Firebomb Frosting in a Ziploc bag or a piping bag with the tip cut off and squeeze half of the frosting over chips. Arrange remainder of chips on top. Squeeze the remainder of the frosting on top. Sprinkle cinnamon chips and diced apples on top. Arrange sliced marshmallows on top and place dish under the broiler for 5 minutes or until the marshmallows brown. Top with caramel sauce and whipped cream. Serve warm.  
Happy Superbowl! ♥ Heather P.S. We're giving away a jar of Firebomb Frosting to you and a friend! Check out our posts on Instagram, Facebook, and Twitter to see how to enter!
Leave a comment
Comments will be approved before showing up.