Gluten-Free Apple Pie Pockets with Flatout Recipe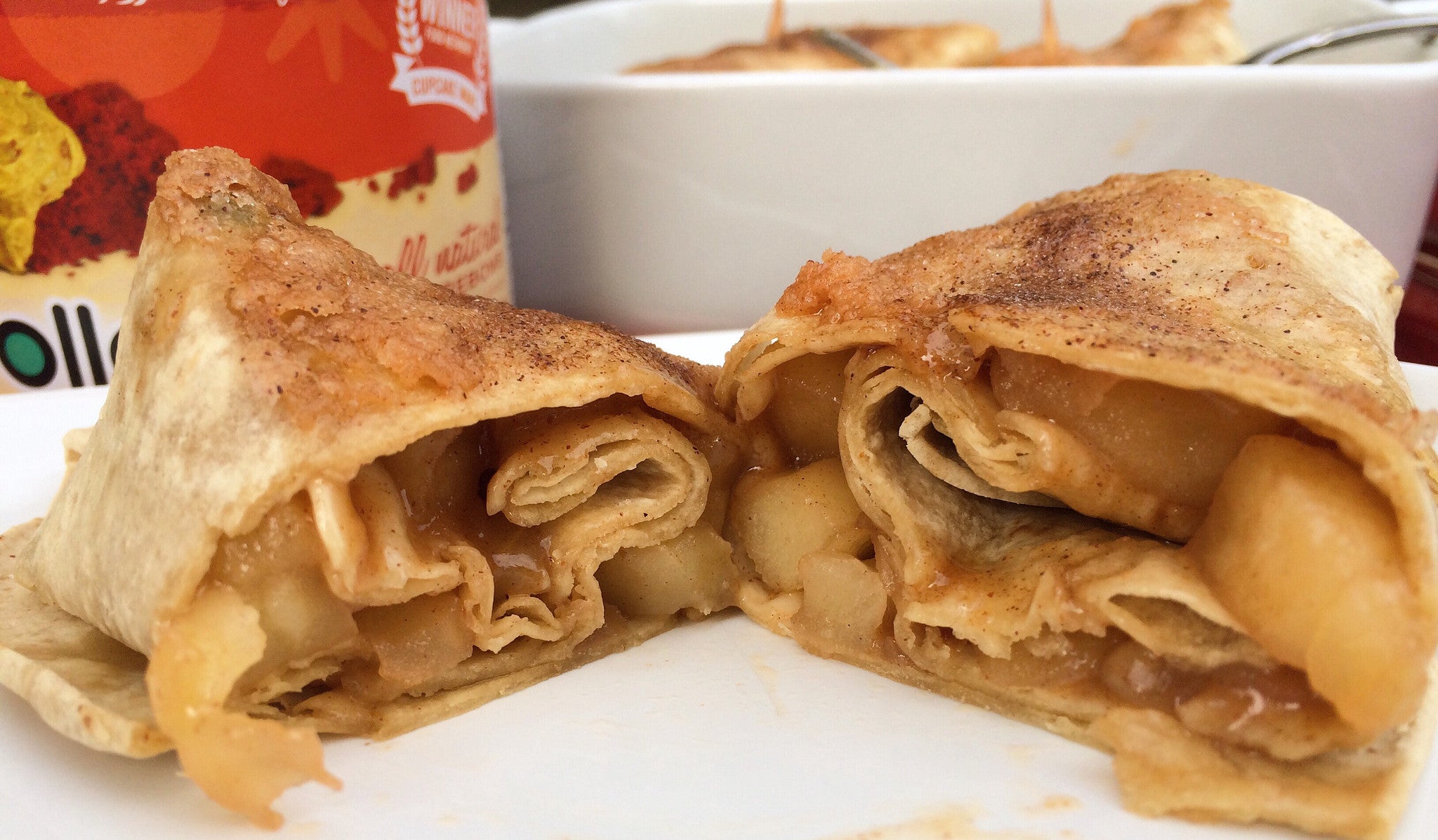 You know what my favorite thing about Fall is? It's certainly not the falling temps. "Fall"… "falling temps"… Cruel joke, Universe. Cruel. How'd it get so cold so quickly?? Summer, I yearn for you. No, my favorite thing about Fall is all the apple and pumpkin recipes that finally begin to churn through my head once again. What better time to crank the oven on and start whisking away on something toasty and tasty than Fall time. This year for my October baking I'm excited to have the opportunity to team up
Dollop Gourmet Frosting
with
Flatout Bread's new gluten-free wraps
!
I first met the Flatout team at the Fancy Food Show in July. When they tasted Dollop Gourmet frosting and told me about their new gluten-free wraps we knew immediately that we had to work together. Flatout Bread smeared with a dollop of tasty frosting just sounded like a no brainer. And so did these beautiful cinnamon spice apple pie pockets I whipped up this morning.
Not only delicious and super easy to make, these Fall flavored treats are dairy-free, gluten-free, and vegan so
everyone
can enjoy them. By cooking the apples till tender in
Vegan Sweet & Spicy Dollop Gourmet Firebomb Frosting Spread
, I minimized the ingredient list. Hey, time is of the essence these days.
The Firebomb frosting adds the perfect amount of sweetness, cinnamon, and heat to compliment the tartness of the apples. This is one dessert for the senses! After cooking the apples in the Firebomb frosting I layered a smattering of the apple pie filling in the centers of the gluten-free Flatout wraps, folded them just so, spread a thin veil of Firebomb frosting on top, and sprinkled on a dusting of maple sugar before placing the rollups in the oven for fifteen minutes.
After taking these photos I told myself I would just take one bite to taste, and save the rest for dessert tonight. Well one bite turned into seven and suddenly one whole apple pie rollup was gone. Oops. It was so delicious I lost all self-control. Good thing they're fairly healthy! Sweet, warm, tart, spicy, and a bit crispy on the outside. This banger has it all!
Enough about the apple pie rollups though (make them sometime, will ya??), what's even more exciting is that Flatout and Dollop have some amazing food bloggers lined up who will be creating their own unique recipes with Dollop Gourmet Frosting and Gluten-Free Flatout! I can't wait to see what they create. Can you? Stay tuned to our
Facebook
and
Instagram
because we'll be sharing with you each delicious recipe that these awesome bloggers post. I have a gut feeling you're going to "fall" for each one. ;) ♥ Heather
 Gluten-Free Apple Pie Pockets
Ingredients
For the apple filling:
2 large apples, peeled and chopped 3 tbsp
Vegan Sweet & Spicy Dollop Gourmet Firebomb Frosting Spread
3 tbsp water 1 tbsp water + 1 tsp cornstarch
For the pockets:
1 tbsp Dollop Gourmet Firebomb Frosting + 1 tsp maple Sugar or brown sugar 5
Gluten-free Flatout Bread wraps
1. Core, peel, and chop apples. 2. Melt the Firebomb frosting over medium low heat. Once melted add apples and water. Cover and stir. Mix the 1 tbsp water with the cornstarch in a small bowl. Slowly add to pot while continuing to stir periodically for 5-10 minutes or until the mixture begins to reduce and thicken and the apples get soft, not mushy. 3. Preheat oven to 350 degrees. Microwave each Flatout wrap one at a time for 25 seconds. Immediately after microwaving spread 1-2 tbsp of the apple pie filling in the center of the wrap. Fold the bottom and sides and roll like a burrito. Secure with a toothpick and place in a baking dish. Repeat for each wrap. 4. Spread a thin layer of Firebomb frosting on the top of each pocket and sprinkle maple sugar or brown sugar over the frosting. Place in a the oven for 15-20 minutes. Serve warm.
Leave a comment
Comments will be approved before showing up.