Birthday Cake Cookies Dollop'd with Frosting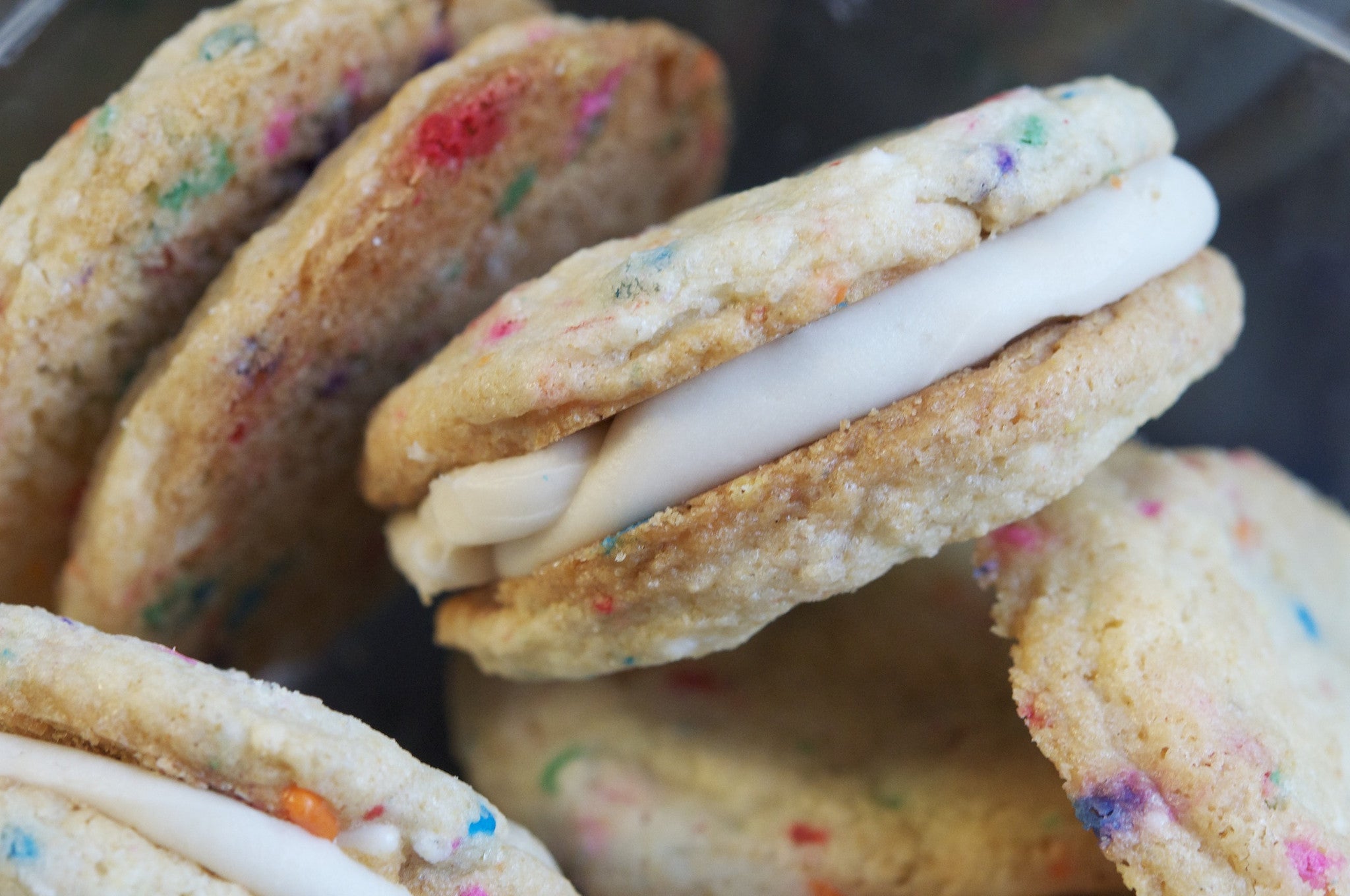 My friend, Kyle was coming over last night to watch Jurassic Park, and by 5pm I realized that I didn't have any snacks for us. But more importantly, I didn't have any dessert, so off I flew to Wegmans to pick up some baking materials. Yes, that's right, my cupboard is not stocked with baking materials. It's not stocked with much of anything, so don't be too shocked. Now imagine this - it's 5pm and I'm tooling through Wegmans with my trusty blue basket, dodging every nine-to-fiver who just left work, seeking inspiration for something to bake. It's a danger zone, really. Almost like the movie we were about to watch. Finally it dawned on me - baby dinosaurs were about to be born! Birthday cake cookie sandwiches stuffed with Madagascar Vanilla frosting seemed fitting. (Truth be told it dawned on me that I had a bag of rainbow sprinkles at home that could use some utilization.) So I grabbed a box of Wegmans gluten-free sugar cookie mix (there's nothing wrong with using quality baking mixes!), a carton of eggs, and a glorious jar of Dollop Gourmet Madagascar Vanilla Frosting* and rushed home.
These cookies were stupid easy to make. One egg, 6 tablespoons unsalted butter, a handful of rainbow sprinkles, and a splash of almond extract if you're feeling nutty. Mix it altogether, do a little shimmy, refrigerate for one hour, scoop balls onto a cookie sheet, and bake! Then the important part - spread Madagascar Vanilla Frosting on the bottom of one cookie, sandwich with another, and make everyone wait to eat them while you take photos!
I wanted to roll the edges in mini chocolate chips but Dan insisted that Birthday Cake Cookies should not be chocolate chipped. So I acquiesced. But if you're feeling so inclined and you don't have a friend who objects, rolling the edges of your cookie sandwiches in chocolate chips could be a smashing addition. The guys loved these festive cookies, I must say. Chewy in the middle, crispy on the outside, and we all agreed they tasted 10x better with frosting than without.
And really, could you think of a more perfect dessert to pair with 12 year Jameson and Jurassic Park? I think not. ♥ Heather P.S. *I lied right here. I had a jar at home, but saying so wouldn't have made for as good a story. You'll forgive me, right? P.P.S. Not to sound sales-y but it's awesome even for me to be able to eat and share a quality frosting without having to make it. I've spent years making frosting and although I enjoy doing so, a lot of times I just want to be able to quickly and easily make an all-natural high quality frosted dessert. No fuss, no mess! So as happy as I am to be able to provide you with the ease and simplicity of an all-natural quality frosting, I'm happy that an all-natural quality frosting finally exists for my own kitchen adventures as well!
Leave a comment
Comments will be approved before showing up.