Why You Should Never Quit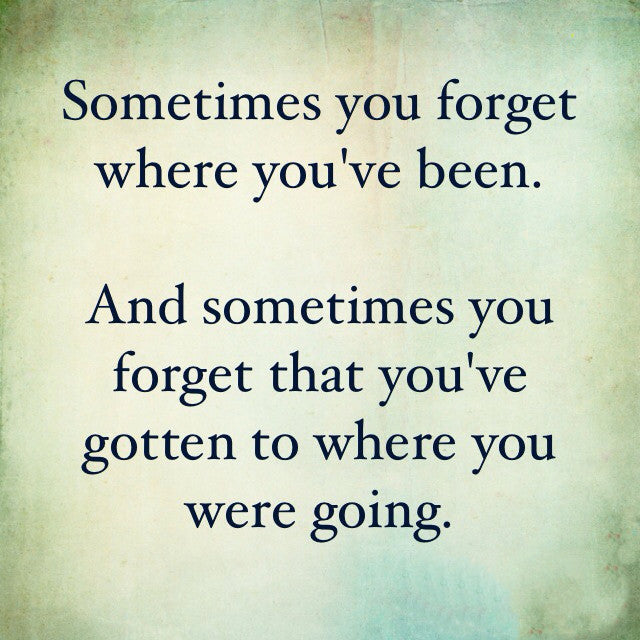 On Friday I had an incredible experience guest blogging on a site called Seekerville. I shared the story that I have copied below here. I always feel humbled and grateful when I'm able to share my story. The most amazing part of that Friday was the barrage of comments I received in response to sharing my story. You should check them out here.
When I sat down this morning to write this post, I had no idea where to begin. Sometimes that's the hardest part for me, figuring out where to begin. So I went to my own blog and started reading some of my older posts, seeking inspiration. Does that sound conceited? Reading my own writing to inspire myself? I wrote a lot of my older posts during/after tough times and I thought that a reminder of how I felt during those times would be helpful. Sometimes you forget where you've been. And sometimes you forget that you've gotten to where you were going. When I began this business journey six years ago I had no idea where I was going. Nor did I have a clue where to begin. I was 25 years old, working as a cashier at a car dealership, and living in a dinky apartment with my boyfriend of almost two years. I disliked my job, I disliked my home, and I just about disliked my boyfriend by then. But where to begin to find happiness eluded me. All these years later, the part of my day that I remember most clearly, the part that made me decide that no, this could not be my life, was the part about the sandwiches. Each morning I'd wake up and plod the three steps to the kitchen; pull out six slices of white bread, slather four of the slices with mayo, two of the slices with peanut butter, douse the peanut butter half with strawberry jam, the mayo half with lettuce and ham, and finish the dance by packing the three sandwiches into two cooler bags; purple for me, black for him. Monday. Tuesday. Wednesday. Thursday. Friday. And then back to Monday. The monotony of it was like living in a gray box. Everywhere I turned it was just same, same, same. I felt like I was watching the movie of my life and I already knew the ending. And that's when I knew that there had to be more. "How to make cupcakes", I typed into Google. Never having baked before, I didn't know where to begin. Today I sit here, six years later, after opening and closing a very successful cupcake bakery, winning Cupcake Wars on Food Network, publishing a cookbook, and launching a line of all-natural gourmet frostings into over 90 retail stores!
Boy it's been a long road of not knowing where to begin. The first time I met Jim for coffee he asked me if I liked to be tickled. If any "businessman" you meet asks you if you like to be tickled, run. Just run. Fast and far. No, not towards him! Away! My intuition was shouting this in my ear as I swatted it away like a pesky fly. Never become so desperate for help that you ignore your heart. Nine months after hiring Jim to help "grow" my first cupcake business, The Cupcake Dreamery, I found myself sitting in the police station across from Officer Michaels, flabbergasted as to how I didn't notice that Jim had been stealing from me to pay for his rent, car repairs, daughter's daycare, dinners and drinks, etc.; cleaning out my entire bank account, leaving me with $200 in cash and a mountain of unpaid bills. I closed my eyes to the realities surrounding me and when I opened them I was sending my "general manager" to state prison and trying to figure out how to start over. I had finally found something I was good at doing – making cupcakes – and there was no way I was about to stop. I just had to figure out where to begin again. Two years later people were waiting in a 45-minute line outside Dollop Gourmet Cupcake Creations, my two-year-old cupcake bakery, in the bitter February cold of Rochester, NY just to snag a set of my four Cupcake Wars winning cupcakes. The line began forming 30 minutes prior to opening and continued until we were completely sold out. This went on every day for well over a month after my episode of Cupcake Wars aired on Food Network.
Business was booming, people were flocking, and little girls were drawing me pictures to thank me for inspiring them. It was the stuff that dreams are made of! Until it wasn't anymore. Three months later I was plotting my escape. "How to write a cookbook", I typed into Google. It was time to figure out where to begin again. I signed a book deal for The Dollop Book of Frosting with Adams Media in October of that year and closed Dollop Gourmet Cupcake Creations at its height, at the end of that December.
Three weeks later I was standing behind my very own booth at the Winter Fancy Food Show in San Francisco trying to market my line of Dollop Gourmet Frosting to the largest retail buyers in the world. "What's the shelf-life of your products?" Uhhhh… "What's the retail price?" Uhhhh… "Where are you manufacturing?" Uhhhh… It was apparent that I had begun without figuring out where to begin. Over the next two years I fought tooth and nail to launch my line of gourmet frostings. I called 70 manufacturers, each of them telling me no. I quit every other day. Deep down I believed this frosting line was going to happen but for two whole years, I could not figure out how to make it so. I knew I would make it to this day of seeing my products on grocery store shelves but at the same time I didn't know if this day would ever come. The Dollop Book of Frosting was released nationwide sending me on a blitz of media appearances and books signings. A published author! It felt incredible to see my face in the pages of People Magazine and on Oprah.com! But the fact that Dollop Gourmet Frosting was only being shelved in my own kitchen cupboard was eating away at my spirit.
You'd think I would have quit by then. I thought I would have quit by then. I mean really quit, not the every other day "I quit!" that I shouted to the universe through sobs before picking myself back up to begin working again. "You could go back to school", friends suggested. "Look for a job using your psychology degree." "Or maybe work in a bakery instead of owning one." Hearing these suggestions caused me rage. All I heard was, "Quit. Give up, Resort to an ordinary life." Last March my mom and I ran away to Florida for a week. It was a last minute trip to escape the brutal cold that was causing depression to settle in. My mom's friend Mary was driving, with my mom in the passenger seat and me in the back. The three of us were headed to the powdery sands of Siesta Key Beach when my phone dinged alerting me to a new email. Subject: Manufacturing your frosting. My heart raced as I tentatively opened the email from one of the manufacturing facilities I had contacted long ago. "We believe we can make your frosting", it read. The sun was already shining that serendipitous day in Florida but from that point on it truly glowed. And the rest as they say, is history. Oh sure, the uphill climb continued, as it still does today. Each and every day there's something new I need to do that I've never done before. Each and every day I don't know where to begin.
Looking back on the past few years I recall so many points in time when I never thought I would ever get here. And as I think about my aspirations and dreams for the future I sometimes think I'll never get there, especially when I don't know where to begin. But then I remind myself that if I could get here, I can get there. I don't need to know where to begin; I just need to begin. And to this day, I still won't eat a sandwich. ♥ Heather
Leave a comment
Comments will be approved before showing up.